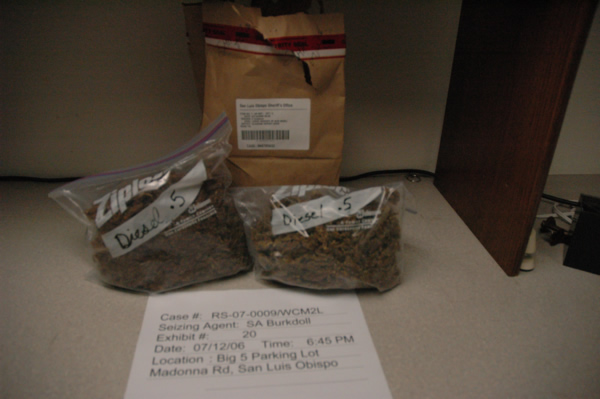 Count One Evidence against Lynch Photo 1
In count One I was convicted of narcotics conspiracy, in violation of 21 U.S.C. §§ 846, 841(a)(1), 856, and 859 (Count One). I was convicted of sending my Employee, Abe Baxter, to the Big 5 Sports Parking Lot in San Luis Obispo which is 15 miles from my Dispensary and telling him to sell Marijuana to under cover sheriff's deputies. I adimately deny this bogus charge.
In the first photo is a picture of Diesel marijuana my Employee Abe Baxter was caught selling at the Big 5 Sporting parking lot on 7-12-06. In the second photo is a picture of Diesel I had in the shop and dated it as received 11-17-06. The Feds wrongfully proved that the marijuana Baxter sold on the street came from my dispensary using only these photos and the only true fact that Baxter worked for me. Feds also falsely claimed that since he was selling Diesel and since I had Diesel in the shop that I must have told Baxter to go sell marijuana on the street in a shopping center parking lot and these photos in the Feds mind prove it. Which of course I did not have any knowledge of his actions taking place on his own time 15 miles away from the Dispensary.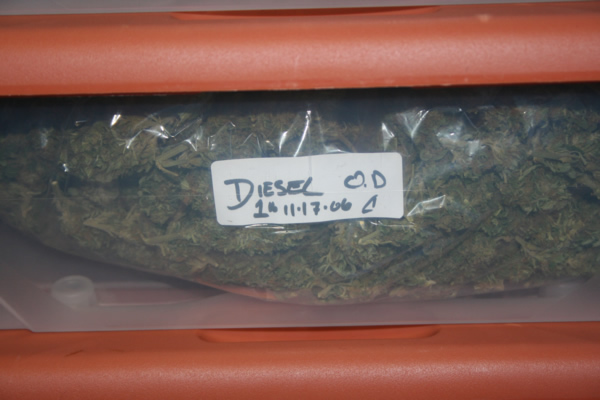 Count One Evidence against Lynch Photo 2
This second photo shows what I had at the Dispensary when it was raided in March 2007. If you look closely at the photos you can see that the strains, packaging and handwriting are completely different and if that is not enough then the date would be a pretty good indicator that they are different...can't see how this one got past the jury but this was enough to convict me of conspiracy to distribute marijuana which has a 5 year mandatory minimum sentence. Theoretically the Feds could have used any of the thousands of transactions that occurred at the dispensary to prosecute me under federal law but instead used this one I had nothing to do with. Just a part of thier propaganda smear campaign to be able to say I broke both state and federal laws.
In retrospect I should have requested the two strains be scientifically compared to see if they we the same. But then again all of the marijuana had been 'destroyed' by the time I went to Trial.
This is the charge the Feds are appealing. Judge Wu applied the 'safety valve' to me on this charge sentencing me to time served. The Feds on the other hand are using this charge in a Appeal against the one year sentence I recieved demanding the 5 year mandatory minimum be applied.