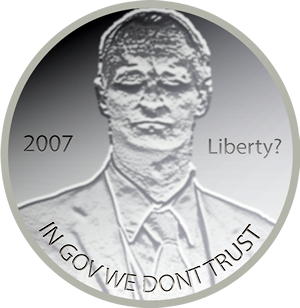 E*TRADE informed Charles Lynch that they would be closing his IRA and Brokerage accounts. They would not tell Lynch why they were closing his accounts stating that in the Agreement forms that they can close your account for any reason.
Lynch then tried opening an IRA account at Scott Trade and then Share Builder and both brokerage houses denied Lynch's application because of a report by a company named CDC, Compliance Data Corporation.
Lynch requested the documents from CDC used in the brokerage's decisions which turned out to be the initial press release from the DEA when Lynch was arrested which grouped Lynch with a large number of arrests in 2007 relating to medical marijuana.
Lynch filed complaints with the SEC and FINRA. And heard back from each Broker that they can do as they wish and reiterated that they would not open an account for Lynch. Etrade decided to let Lynch's accounts remain frozen until the result of Lynch's Appeal to the 9th Circuit Court of Appeals is decided.
Lynch's attorney's also wrote a letter that will accompany the CDC reports to those who request the report. There is apparently some unwritten law about people showing up on this CDC list are banned from society. The CDC report lists only the DEA propaganda story they ran when he was arrested.
Lynch has had accounts with E*TRADE for over 10 years which he opened when he worked for Veritas/Seagate in the early 2000's and has had some luck trading penny stocks in the past. Lynch's current IRA account has about $4000.00 which is stuck on the downside in junk Penny Stocks. The IRA money in Lynch's account came from an inheritance his little brother J. Pat Lynch left him when he died in 2008.
UPDATE: 2/1/2014 Got letters from E*TRADE on my Bank, Trading, IRA and SEP accounts that they would be closing them.
UPDATE: 4/7/2014 E*TRADE called this morning, Elaina Fair, Sunday 9 am, to tell they were going to transfer my accounts to the state because I had abandoned them. I informed the caller that I login regularly and have not abandoned my accounts but have not transacted as they are frozen. Also I said I did not want my accounts closed and asked why my accounts were being closed. She said that she could not say why but said they were going to transfer them to the State. I asked which state and she said after a delay, New Mexico. I finally got a little juice going and told here that I know why E*TRADE is closing my accounts and I think the Federal Government is bullying E*TRADE around forcing them to close my accounts because of my medical marijuana case. I also mentioned that I previously recieved letters from E*TRADE saying they would wait until the outcome of my 9th Circuit Court of Appeals case before closing my account. She cooly said it was not her decision and that my accounts would be closed whether I objected or not. She said I could write a letter though. So I wrote my letter and faxed it on 4/8/2014.
UPDATE: 4/8/2014 Call from E*TRADE, Elaina Fair, and I returned the call and spoke to another agent asking me where I would like to have my assets transfered. I said I did not request a transfer and I wanted my accounts to be left in place. The I told him again my story 'closing account cause of MMJ arrest' and he had some opinioins he could not talk about. He also at one point had to call upstairs to find out some answers and he came back saying they would not give him any information either and that any correspondence with me (except theirs to me of course...) is to be in written letter. I told him I faxed a letter today to E*TRADE telling them I did not want to close my accounts yet.
UPDATE: November 2014, E*TRADE closed Lynch's bank account without notification.