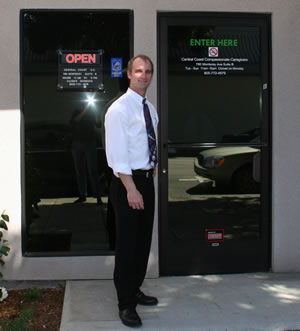 Welcome to Friends of CCL
Charles C. Lynch is the former owner of Central Coast Compassionate Caregivers, a medical marijuana dispensary, in Morro Bay, California.
The dispensary opened on April 1, 2006 with the blessing of the city and was welcomed by the Morro Bay Chamber of Commerce. In July 2006 the dispensary was granted a Conditional Use Permit from the City of Morro Bay to include a Medical Marijuana Nursery at the dispensary.
The Dispensary operated for almost one year without any major problems or complaints to the owner. On March 29, 2007 the Local Sheriff and DEA agents raided the Dispensary and Home of Charles Lynch. Lynch was not arrested at the time and reopened the dispensary on April 7 2007 with the blessing of the City of Morro Bay. A week after reopening the dispensary the DEA called the Landlord and threatened him with Forfeiture of his property unless he evicted the Dispensary from the building. On May 16, 2007 the Dispensary closed permanently.
On July 17, 2007 Lynch was arrested at his home and charged with Federal Marijuana Distribution. Lynch pleaded not guilty and went on trial July 22, 2008 in Los Angeles. Lynch was not allowed to discuss state law or mention 'medical marijuana' during the trial. Also large amounts of evidence including Lynch's compliance with State and Local laws could not be considered as factual by the jury. Before opening the dispensary Lynch called the DEA and asked about thier policy regarding medical marijuana dispensaries. The DEA told Lynch it was up to the Cities and Counties to decide how to handle the matter. This was Lynch's only defense in Federal Court and is called entrapment by estopell when a government agent says something is ok when in fact it might not be. Click here for more information.